Introduction
This article explains how to get in contact with support and describes the various SLAs offered by our service.
Support Information
Overview
For general information about App47, check the documentation in this Help Center. If you believe that service with App47 has been disrupted, please check our Status Page.
Status Page contains not only information about the current statuses of systems on App47, but also day-to-day information about outages. Any outage event will contain elapsed time of the event. Click on the blue Subscribe to Updates button in the upper-right if you would like to be updated in case of events.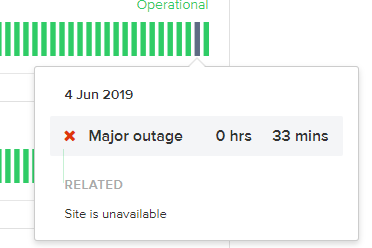 Contact and Help Desk
There are several ways to get in touch with App47 support:
App47 Support is here to help you 24/7 with any issues regarding App47.
SLAs
For Enterprise customers, App47 offers the following SLAs:
| | | | | |
| --- | --- | --- | --- | --- |
| Priority level | Urgent | High | Normal | Low |
| First Response Time | 1 hour | 1 day | 1 day | 1 day |
| Update from Support | Hourly | Daily | Weekly | Monthly |
| Temporary Solution | Four hours | 8 hours | 2 days | 1 week |
| Permanent Solution | 1 business day | 3 business days | 1 week | 1 month |
Priority levels are defined below:
Urgent - Either the portal, App Store or Agent API are not responding.
High - The portal, App Store or Agent API are responding, but not performant regarding response times or expected results.
Normal - Software not working as expected
Low - Question or feature request